SFPS will return students to in-person learning on Monday, January 24th, Superintendent Hilario "Larry" Chavez announced today. Read the full bulletin here:
https://conta.cc/3AkrBCE

Starting today, you can now order free at-home COVID-19 test kits from the government. Every household can order 4 at-home tests. To order, visit
https://special.usps.com/testkits
. Reminder: these tests are not accepted by NMPED and will still require staff and students to receive a PCR test result.

Superintendent Larry Chavez is announcing that due to the spike in COVID cases in our community, and the impact it is having on staffing, schools will return to remote learning on January 18th for one week. In-person learning is set to resume on January 24th if conditions improve. El superintendente, Larry Chavez, anuncia que debido al aumento de casos de COVID en nuestra comunidad y el impacto que está teniendo en el personal, las escuelas volverán al aprendizaje remoto el 18 de enero durante una semana. El aprendizaje en persona se reanudará el 24 de enero si las condiciones mejoran. rmd.me/n5a6jzUxbcL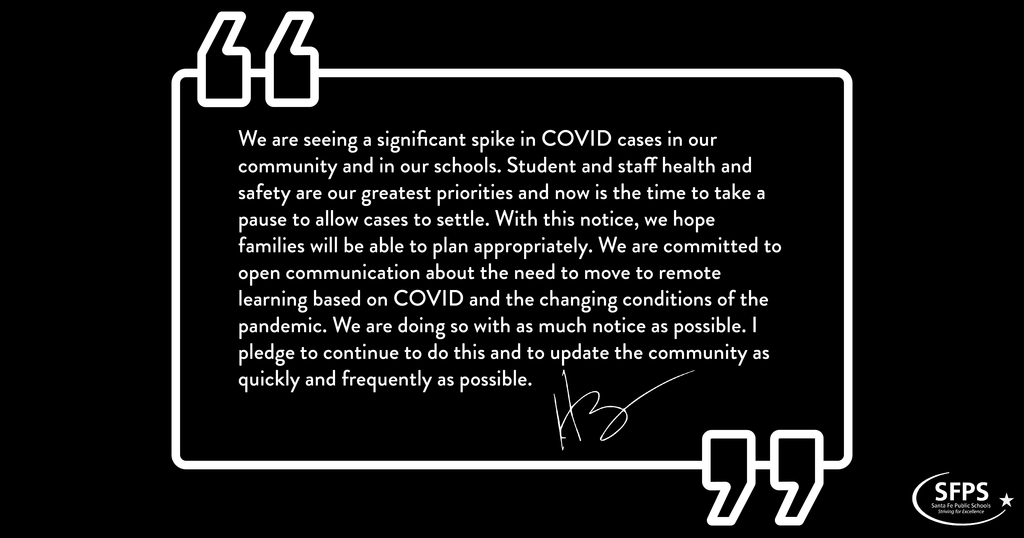 "SFPS staff, parents and students can receive COVID testing at the PMG testing site located at 2540 Camino Edward Ortiz, Suite A, on Mondays, Wednesdays and Fridays from 10 to 3. This site is in the State Auditor's Building near Kohl's. El personal, los padres y los estudiantes de SFPS pueden recibir la prueba de COVID en el sitio de prueba de PMG ubicado en 2540 Camino Edward Ortiz, Suite A, los lunes, miércoles y viernes de 10 a 3. Este sitio está en el edificio del Auditor del Estado cerca de Kohl's."

In order to be proactive in the midst of this pandemic, SFPS recommends that all students and staff wear KN95 or surgical masks beginning today. School staff will have masks available.

Vaccines are occurring on Saturday and Sunday (1/8 & 1/9) from FEMA Team at the Santa Fe Fairgrounds, located at 3229 W. Rodeo Road, from 10 a.m. to 6 p.m. The Pfizer vaccine and booster will be administered for ages 12-15 and 15 and above. The Pfizer pediatric vaccine for ages 5-11 will also be administered. It is recommended to register in advance at vaccinenm.org but it is not required. More locations:
https://bit.ly/COVIDVaccineSF

A threat on Friday to school safety "for every school in the USA" is circulating on TikTok and in districts nationwide. We do not believe the threat is credible and are closely monitoring this, working with city and county authorities. The safety of staff and students is our priority.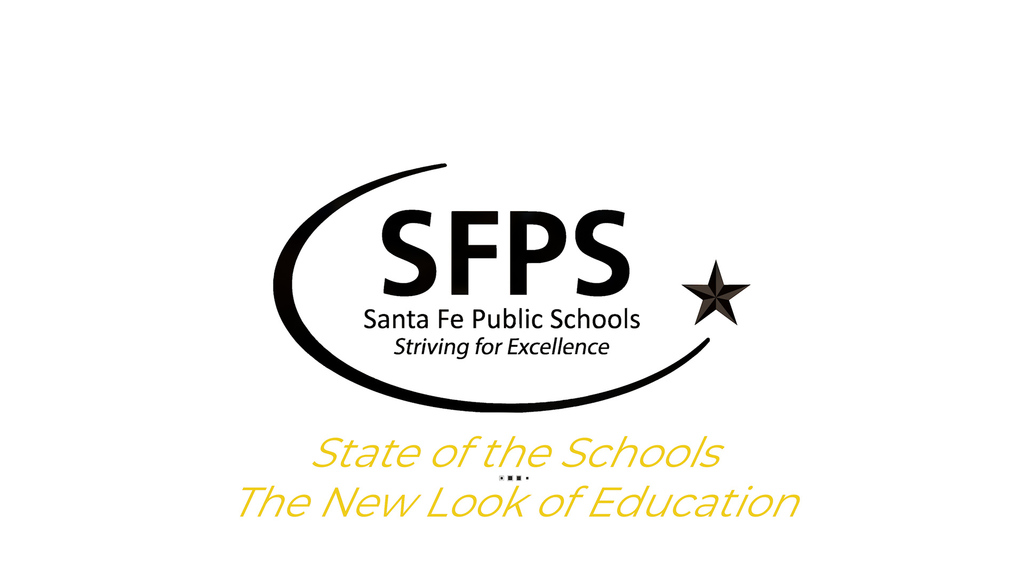 Next Week Only: Schools will be in remote learning on Tuesday to slow the spread of COVID. Please follow COVID protocols at family gatherings so your kids return to school healthy on November 29th!

REMINDER: The 2022-23 Transfer Lottery is open! Visit bit.ly/SFPSTransferLottery for more information!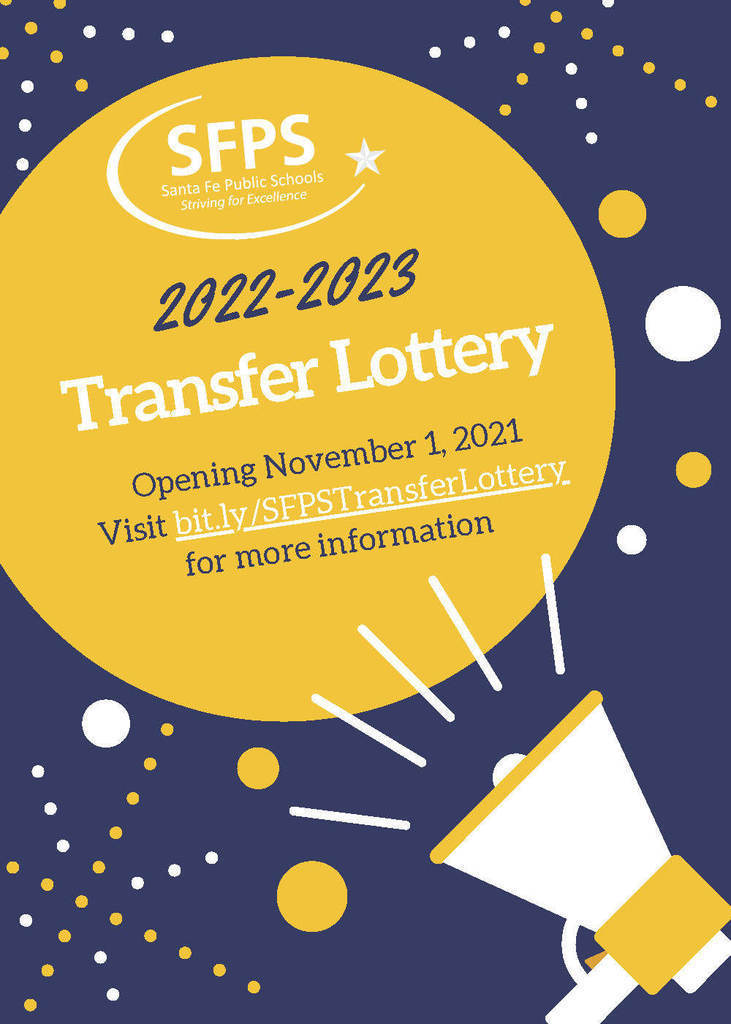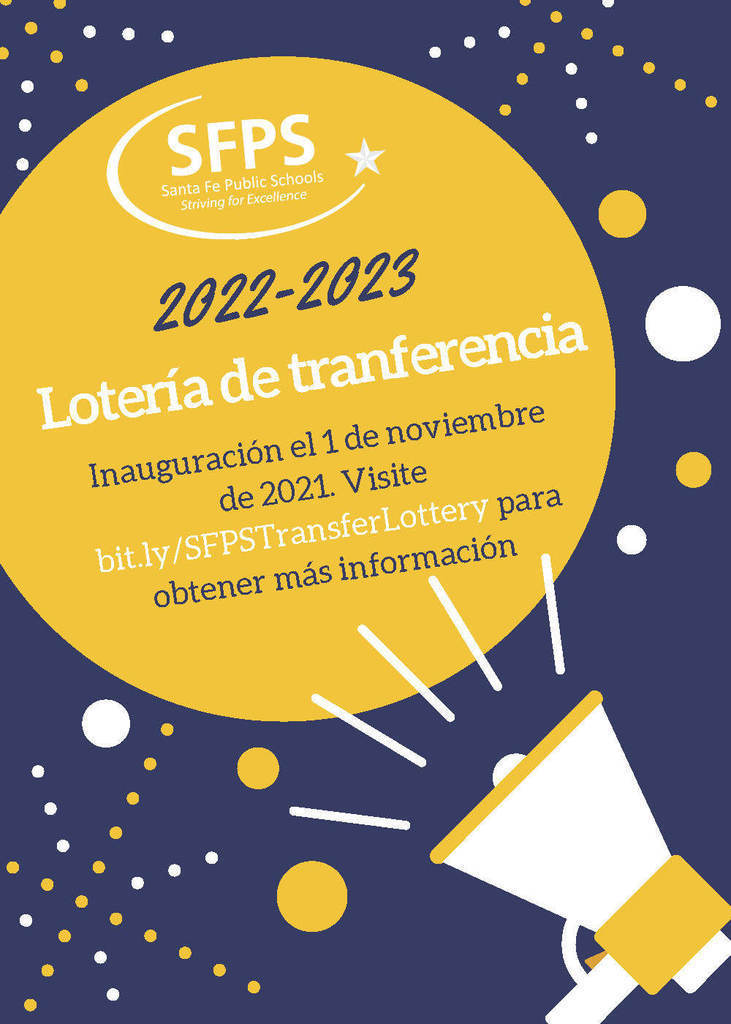 REMINDER: The 2022-23 Transfer Lottery is open! Visit bit.ly/SFPSTransferLottery for more infomration!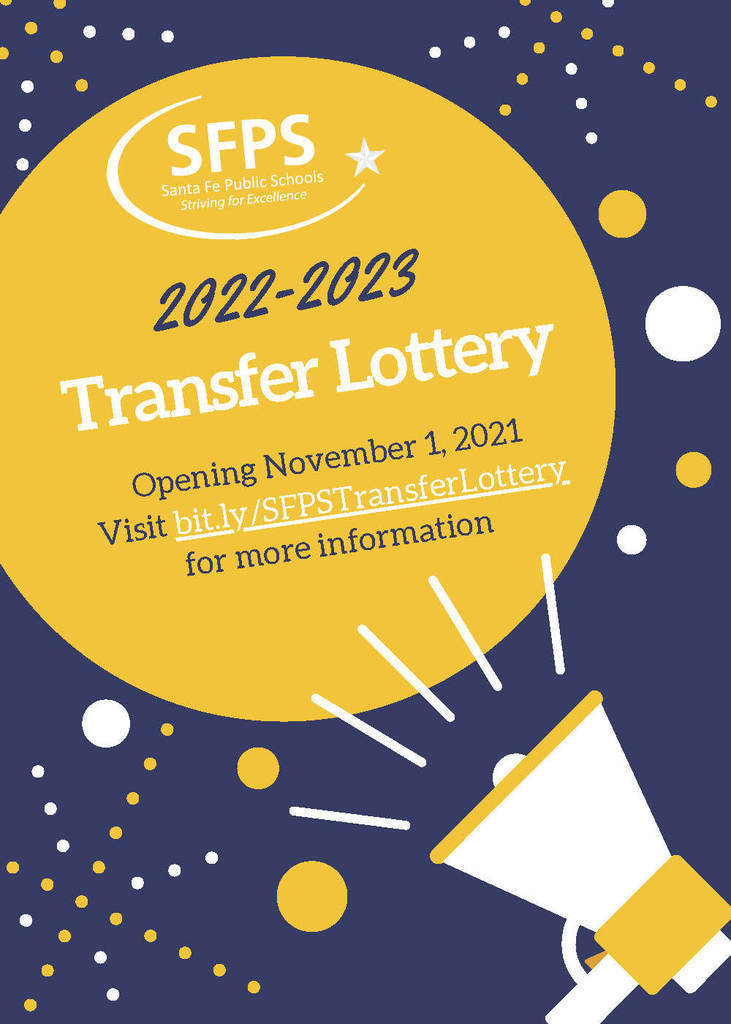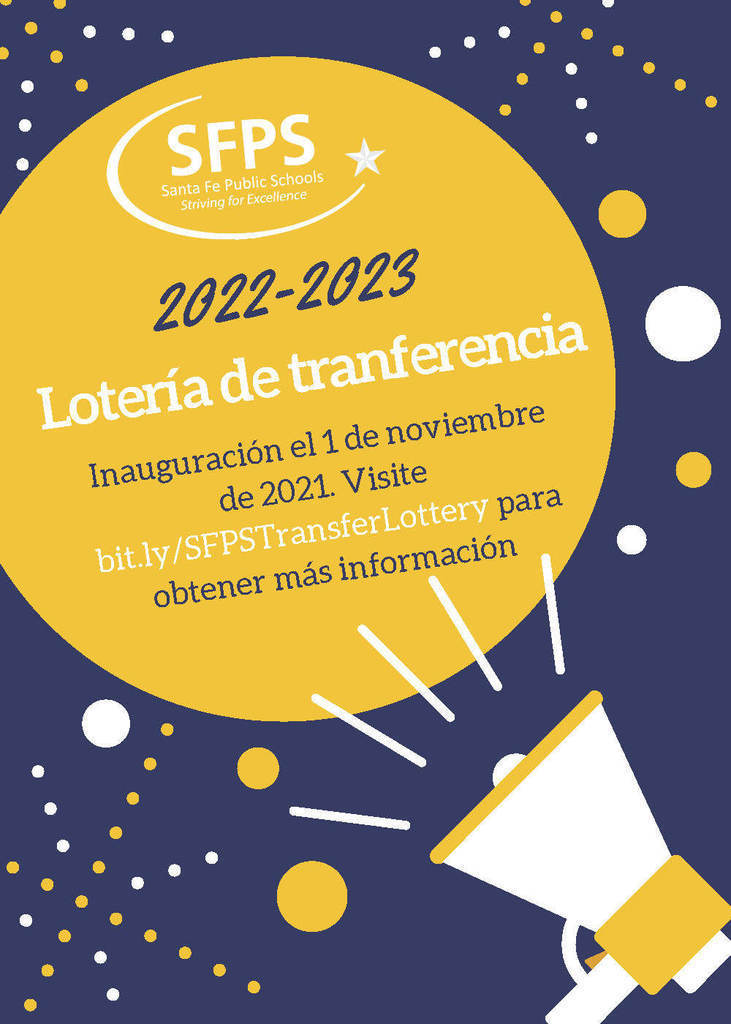 The SFPS COVID-19 Dashboard is live! Visit bit.ly/SFPSDashboard to view the dashboard.